Carriage Creek



Woodland Creek offers the beauty of real wood overlaid on the strength of steel to enhance the beauty of your home.
STANDARD FEATURES
Available in six designs
With a complete line of window design options and may be custom ordered from any architectural drawing.
24 Guage Metal
Hot dipped galvanized steel construction with hemmed inside return rail and ribbed panel to provide superior strength and durability.
Wood Overlay
Attached both chemically and mechanically to the surface creating a lasting superior bond.
17 Gauge hot dipped galvanized stiles
Heavy duty metal styles give strong rigid support for all hinges, rollers and operator attachment.
Stiles attached with rivets
Provides superior strength when compared to common sheet metal joining methods.
Tongue and groove meeting rails
For superior strength and better sealing against wind, rain and snow.
Rigid Aluminum Retainer
Provides added strength while securing replaceable u-shaped bottom weatherstriop to help keep the elements out.
R Value 6.85 Insulation
Enhances energy savings, makes your door operation quieter, and reduces exterior noise.
CFC Free expanded polystyrene
Environmentally friendly insulation that will not degrade with vibration or time.
High impact plastic back cover
Protects the insulation and allows for easy cleaning.
* All doors are shipped unfinished tight knot cedar. Optional unfinished clear cedar is available.
CONSTRUCTION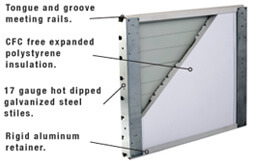 DECORATIVE HARDWARE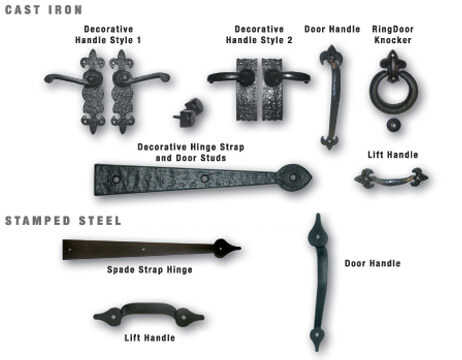 CONSTRUCTION

DECORATIVE HARDWARE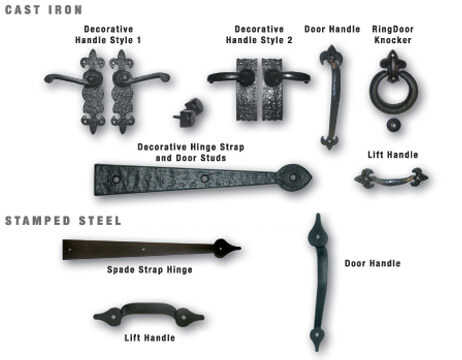 DOOR STYLES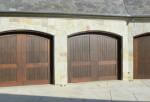 Model A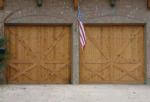 Model B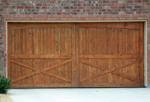 Model C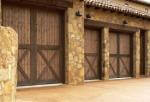 Model D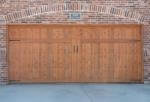 Model E
Model F